Our everlasting theme is living in symbiosis with the earth's environment.

Keeping the filter performance but reducing negative impact on environment, which will be the future standard.
Characteristics of ECOFIX
Traditional oil filters are difficult to be recycled because these are made of metals, rubber, paper, and adhesive.
Also, these are sometimes difficult to dispose because of the regulation of the laws.

However, ECOFIX doesn't use the metal in its inside, so it can be divided easily.
All waste materials (metals, rubber, and paper) can be recycled into useful resources.
ECOFIX is bonded by ultrasonic fusion technology so that polyvinyl chloride is not used.
The result is an environmentally friendly filter.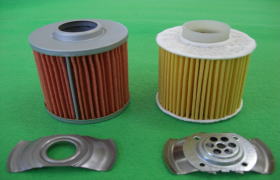 Left: Normal filter      Right: ECOFIXX

●ECOFIX is a green because it is bonded by ultrasonic fusion technology so that polyvinyl chloride is not used