Features of Windshield Wiper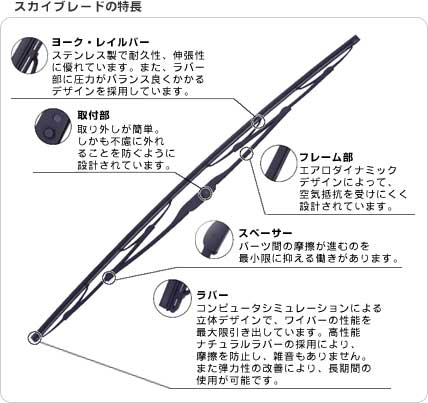 Descriptions of each part
Yoke Rail Bar:Here is made by stainless steel which is good at durability and elasticity. Also, this makes the rubber fit to the windshield very well.
Fitting Part:Itfs an easy to attach or remove, but designed as preventing unexpected removing.
Frame Part:Here is made by using Aero Dynamic Design, and this decrease air resistance.
Spacer:It controls friction between parts.
Rubber:It is designed by a computer simulation in order to the windshield wiper work very well. The designed wiper prevents friction and noise between windshield and wiper. Moreover, we better changed rubberfs elasticity so that you can use it for longer period.
Advices
œWhen it should be changed?

If the wipersf rubber was worn away or discolored, they should be changed. We recommend it to be changed every season in order to keep safe and clear views.
œHandling Instructions

Caution: If the wiper comes off during a driving, it will be in danger.

œThe wipersf rubber need to be applied pressure equality. If the pressure was an insufficiency, it would be cause of lower performance.
œYou must check the wipers are installed to right position and are locked.

œAdvices of Changing the Windshield Wiper

œHardened rubber will be cause of lower performance.
œIf you wiped the wiper once, and there were black dirt or discolored points, the wiper should be changed.
œIf you havenft changed for a long time, and there is a cracked point, the wiper should be changed.
œEspecially edge of the rubber was worn out, it also cause of lower performance.
œIf dirt or something was stuck to the rubber, it would be cause of damage a windshield. Please remove them or change the wiper.
œWavy or twisted rubber has to be changed.